The Suzuki FZ50 from 1993
"High Speed Project"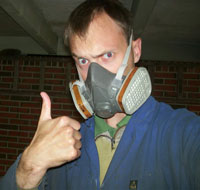 No.1 mechanic

in moped Highpower engines
We want to make a Suzuki FZ50 moped with a little power, so we use a 65 ccm cylinder instead of the orginal 49 ccm, with normal orginal carburator and exhaust the cylinder will give about 5 - 7 HP, normal the moped only have 1,2 HP and a top speed about 30 km/h.

We have now put the new cylinder, piston on the moped and it can drive over 55 km/h, the orginal carburator is used with number 60 in main jet, the pipe from the carburator to the engine has a diameter of 12 mm, orginal the carburator is 12 mm, we have also maked a little trick with the exhaustpipe so it better can breathe thrue the small exhaustpipe. More info will come to the site later.